Creating artificial water waves on the resin surface can be done in various ways, such as using a hair dryer to create waves, or another way that we would like to present is to create the most realistic water waves by using Gel Medium.
What is Gel Medium?
It is a liquid that resembles glue. It is colorless once it is dry. It can be used to hold all types of materials as well as be used to create an embossed surface or create a water wave pattern.
Equipment for making wave patterns
Gel Medium
Brush
Let's start!!
After your resin workpiece is completely dry, remove the dust by using a clean cloth to wipe the workpiece. Then, start applying gel medium using a brush, creating a water surface by applying a thin layer of gel medium as shown in the picture, and wait for about 30 – 45 minutes to dry.
Once the gel medium has completely dried, small wavy patterns will begin to appear. Now, you can apply gel medium with the brush again to make the workpiece look more dimensional and realistic, and scrape the gel medium to make it look like a wave ridge. Then use the brush to check details all over the work and wait for it to dry for about 30 – 45 minutes.
Easy Tips :
By leaving the gel medium a little sticky first and using a brush to make a pattern of water waves, you will be able to control the gel medium easier because being so liquid may cause the gel medium to flow together.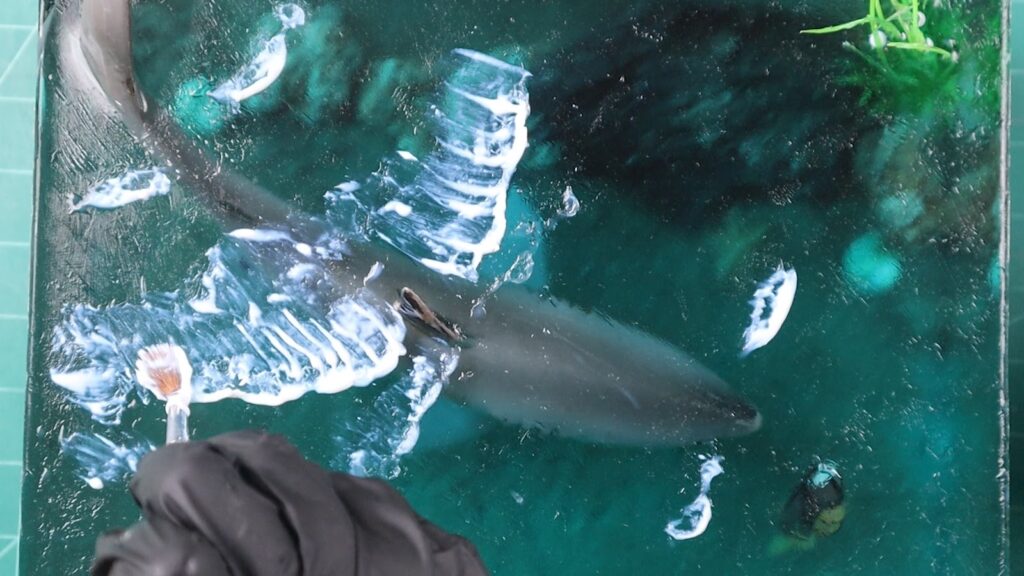 Now, you can apply gel medium to make the waves look more dimensional and realistic one last time. By gradually using a brush to fill the gel medium slightly to be a ridge on the workpiece and wait for it to dry for another 30 – 45 minutes. This method can be repeated over until you feel satisfied.
Finally! You can now see once the gel medium has dried, it will be transparent as a wave pattern and looks like real water as well.
You can watch how-to video at >>